Employer heading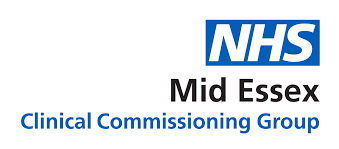 Address

NHS Mid Essex CCG
Wren House
Hedgerows Business Park
Colchester Road
Chelmsford
Essex
CM2 5PF

Website
We want everyone in mid Essex to Live Well
For us, this means making sure that you, your family and loved ones have high quality health services that support you to stay well throughout your life.

Mid Essex Clinical Commissioning Group (CCG) is part of the NHS and we are responsible for planning and buying local health services. This process is known as 'commissioning'.

We have an annual budget of approx. £420 million to spend on healthcare for people living in the districts of Maldon, Braintree and the City of Chelmsford. The health services we buy include:
Hospital care
Medicines and prescribing
Mental health services
Urgent care
Community care
Ambulance Services
The CCG brings together 45 GP practices in the mid Essex area. Our GP member practices elect GPs to represent their views on our Board, including the Chair and Vice Chair.

We also have a network of patient participation groups (PPGs). PPGs are run locally by volunteer patients and practice managers and help strengthen the relationship between GP practices and their patients. PPGs contribute ideas, feedback and suggestions directly to their practices. You can find out how to join your local PPG here.

Mid Essex CCG is based in Chelmsford and employs just over 100 members of staff across six departments — clinical commissioning, nursing and quality, primary care and resilience, medical, corporate services and finance.
Mid Essex Clinical Commissioning Group presently has no vacancies listed in our database.